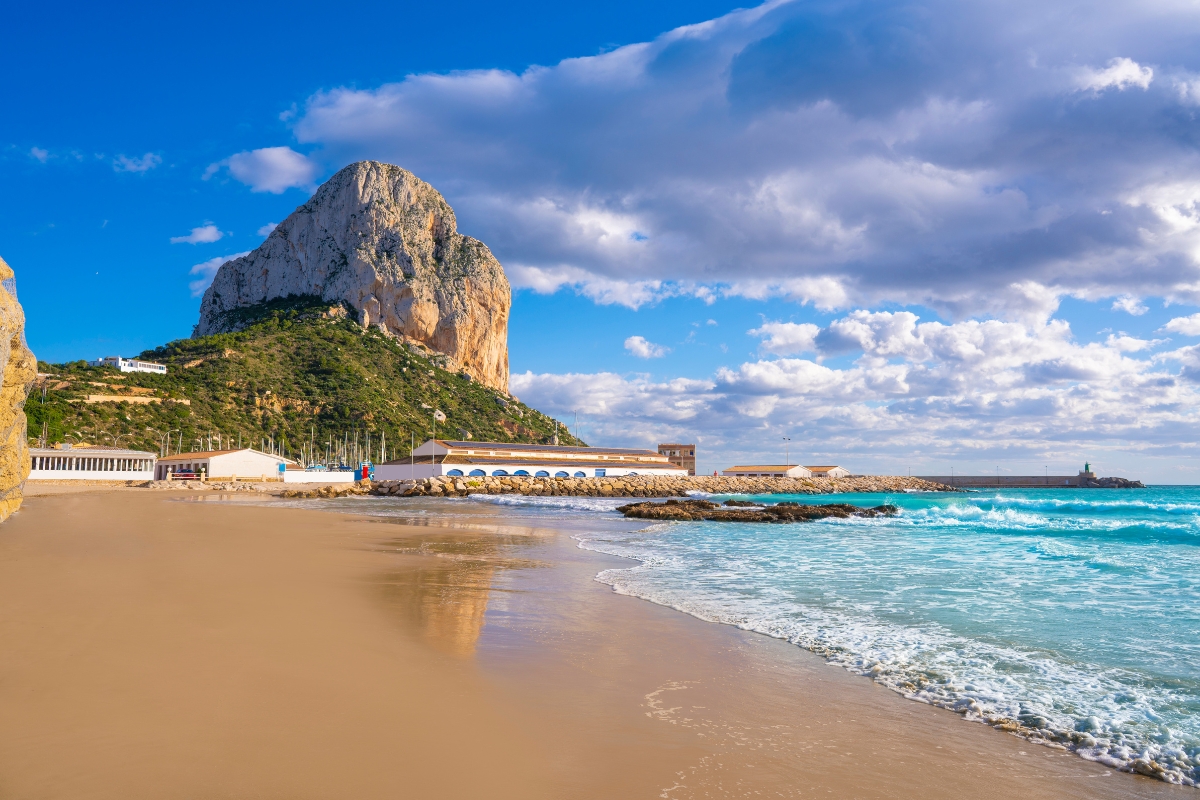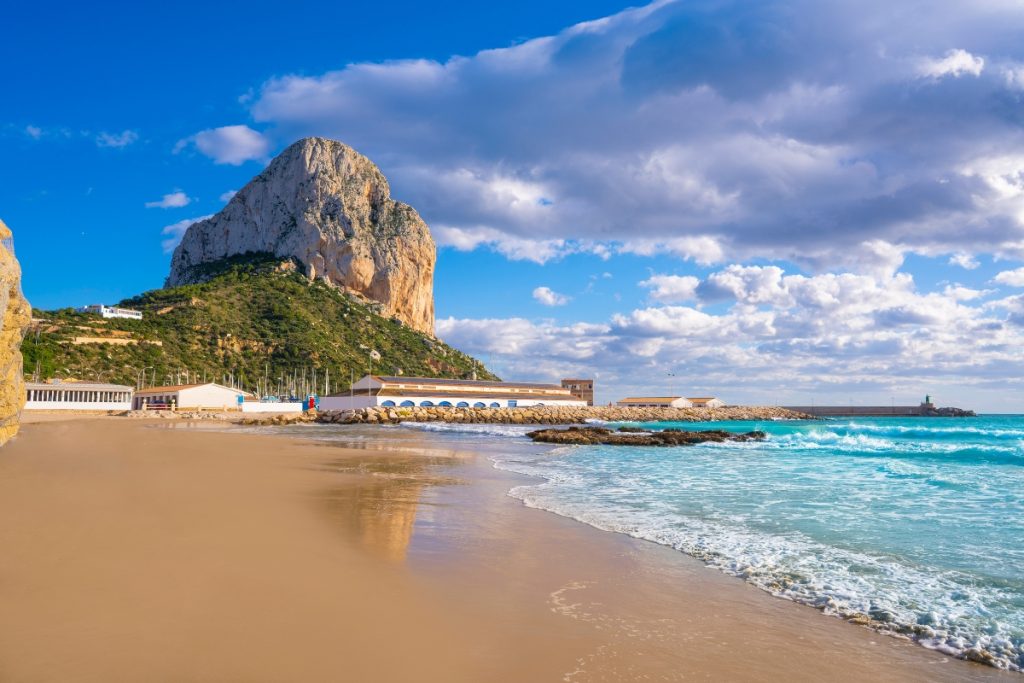 The Beachfront Escapades Await
Dive into the scenic coastal wonders of Spain by exploring these top 10 family-friendly beaches. Each beach offers unique experiences and amenities ensuring a memorable seaside adventure for the whole family.
1. El Sardinero Beach, Santander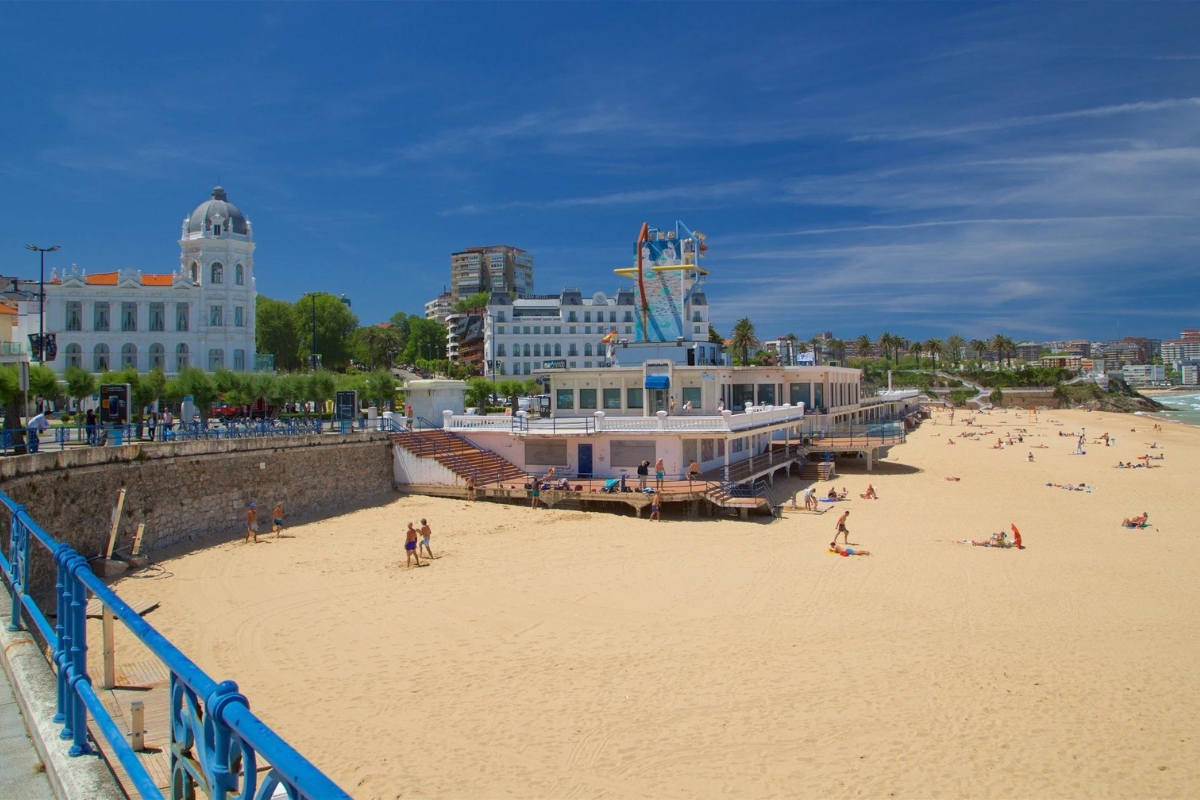 When we speak of El Sardinero Beach in Santander, we're talking about a sandy paradise that comes in two wonderful parts – Primera and Segunda. Both stretches are renowned for their golden sands and the vibrant but safe atmosphere that's perfect for families. The first part, Primera, is particularly loved for its ample space and proximity to amenities, which is a relief for parents. Segunda offers a more laid-back experience, where the laughter of children building sandcastles fills the air. These beaches boast playgrounds, lifeguards, and a gentle surf, all combining to create a stress-free day under the sun for both the young and the young at heart.
2. La Roqueta Beach, Guardamar de Segura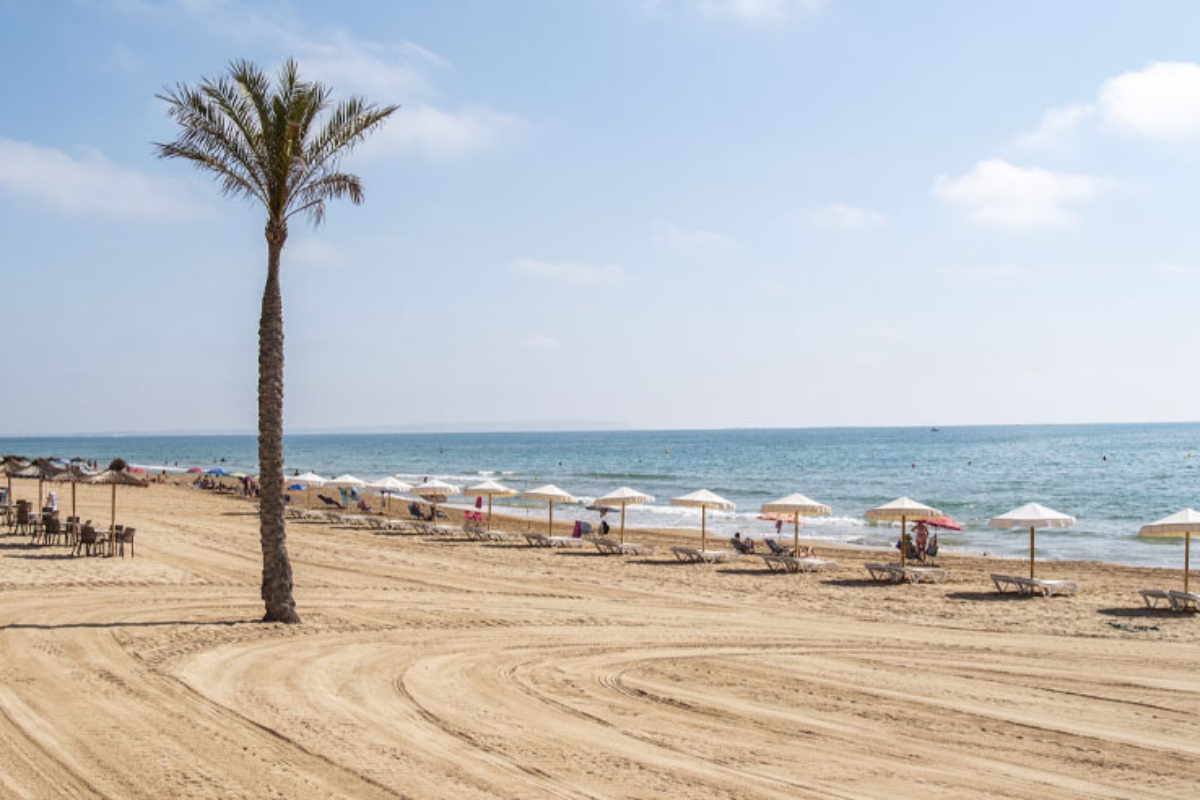 Nestled in the embrace of Guardamar de Segura, La Roqueta Beach is a serene stretch where the Mediterranean laps at the shore with a gentle rhythm, perfect for the little ones to paddle and play. The surrounding natural landscapes, rich with native flora, provide a stunning backdrop for beachgoers. Just a stone's throw away, parks filled with the shade of palm trees offer a respite from the sun and a perfect picnic spot. This beach is a sanctuary where families can enjoy the soothing harmony of nature's untouched beauty.
3. El Castellar Beach, Mazarrón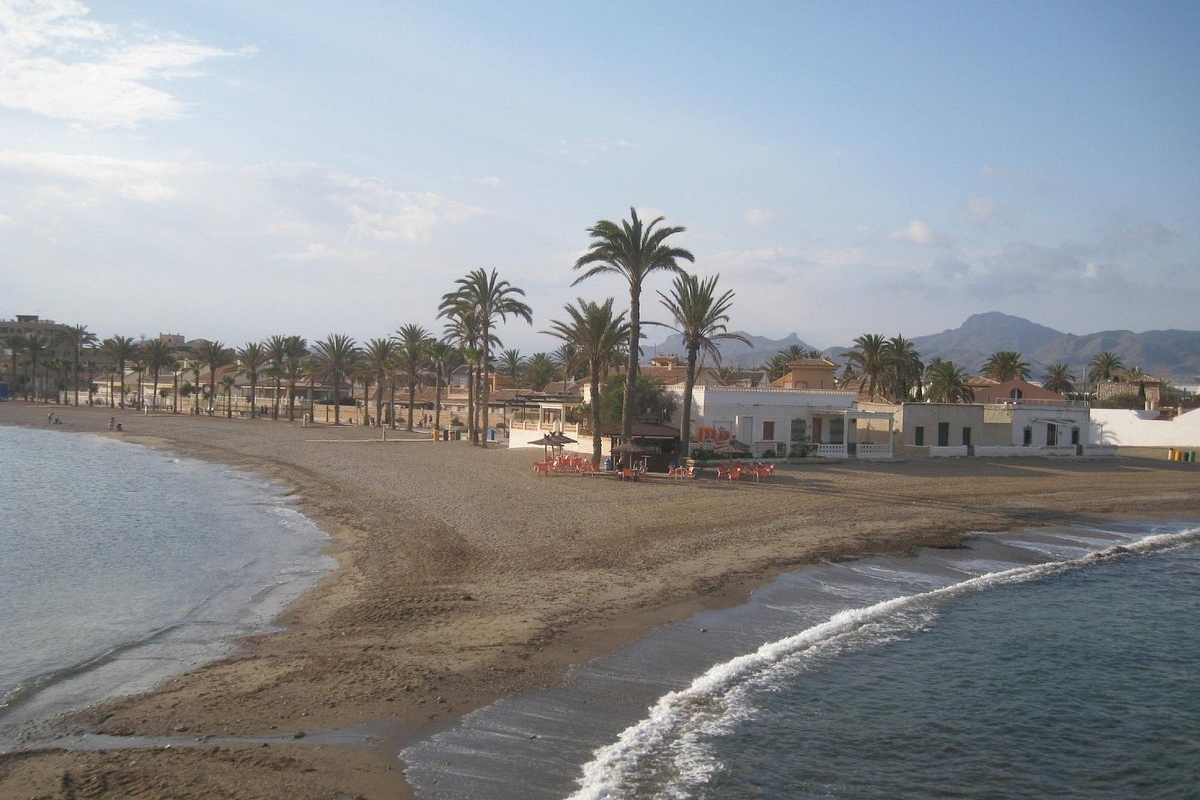 Mazarrón gifts us with El Castellar Beach, a charming expanse where the waters meet the land with a gentle slope, making it an ideal playground for children of all ages. The seafront promenade, lined with friendly cafés and ice cream shops, serves as a delightful walking path for families, offering treats and treasures along the way. The shallow waters here are not just safe for children's play but also teem with marine life, promising a little bit of education alongside the excitement.
4. La Misericordia Beach, Málaga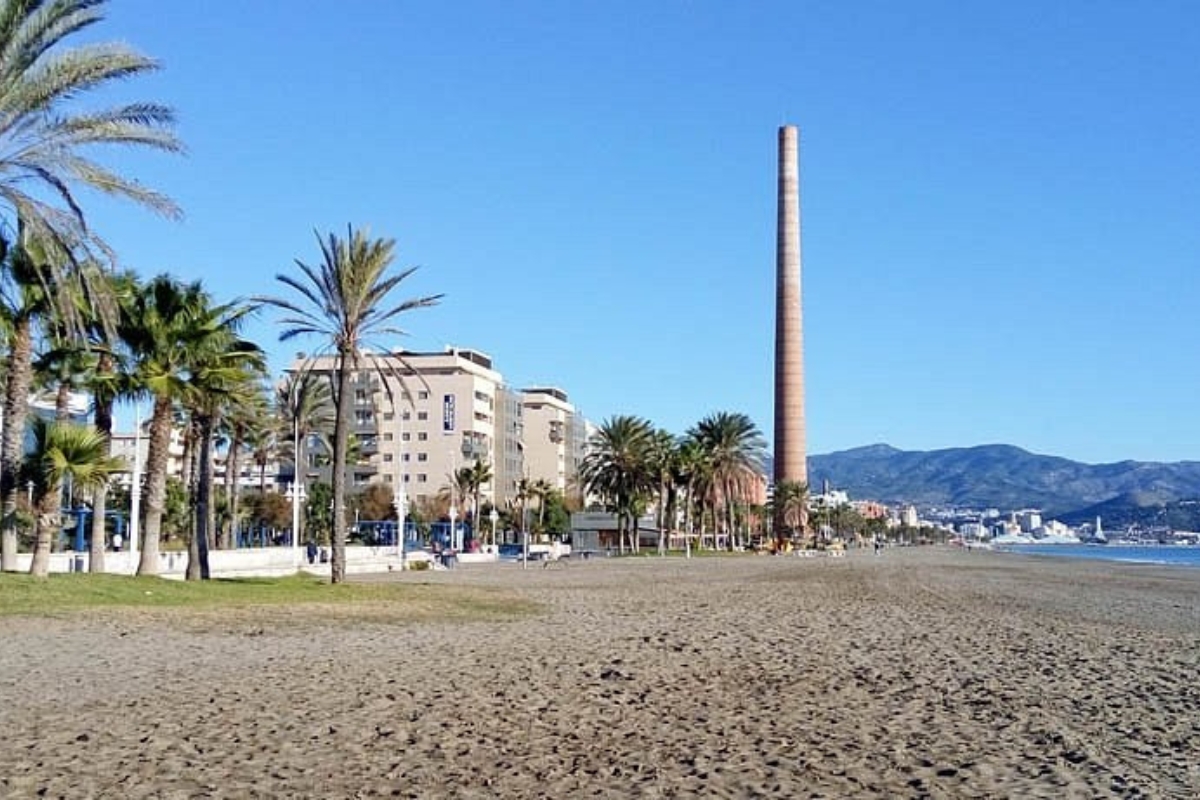 The shores of Málaga are graced by La Misericordia Beach, a locale that takes the stress out of a family beach day with its easy parking and wide stretches of sand. The atmosphere here is comfortably lively, making it a favorite for both locals and visitors. The Paseo Marítimo promenade offers a delightful array of dining options, where the smell of sizzling seafood might tempt you away from your beach towel. For families, the ease of access and the range of facilities make this beach a hassle-free haven.
5. Las Canteras Beach, Las Palmas de Gran Canaria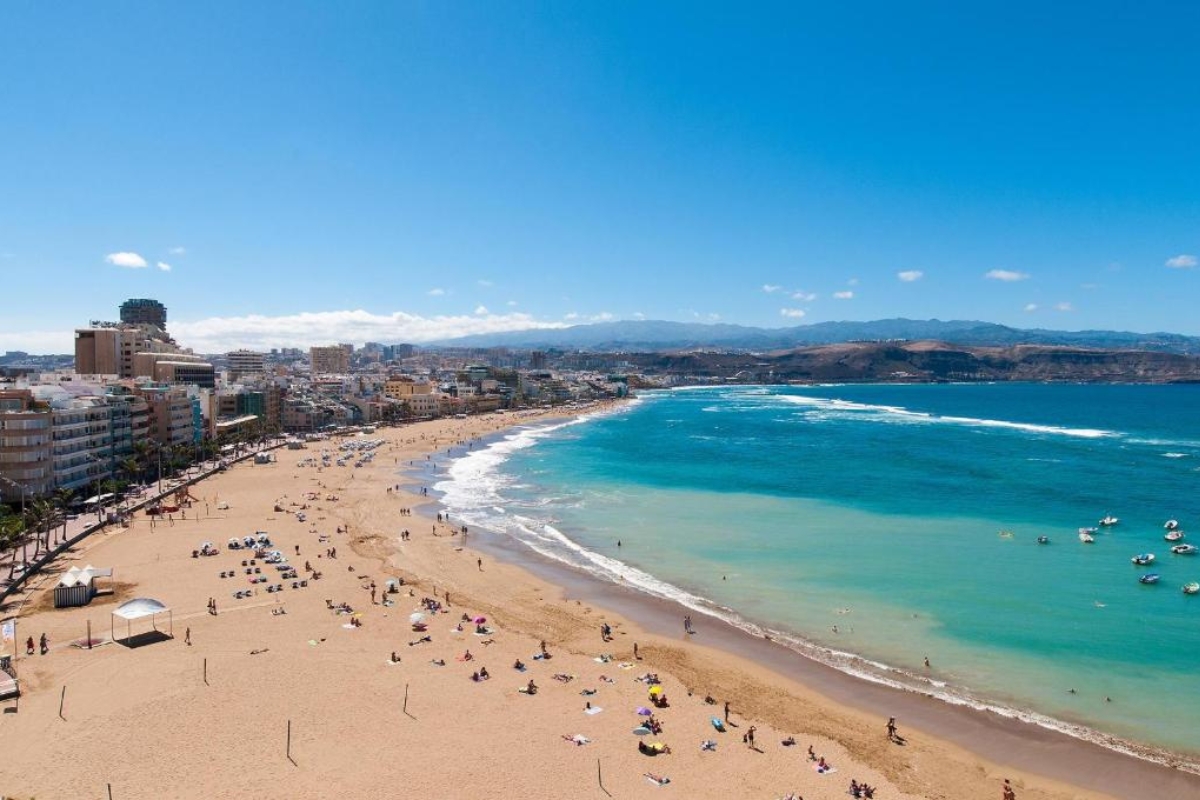 At Las Canteras Beach in Las Palmas de Gran Canaria, a natural reef protects the shore, creating a vast swimming area where the waters are calm and clear. This is a beach that thinks about every member of the family, with its bustling promenade that's just as perfect for a leisurely stroll as it is for those looking for a little local shopping. The blend of natural beauty with urban convenience here ensures that while the children dig and dive, the adults can relax and revel in the vibrant beach life.
6. Playa de Levante, Benidorm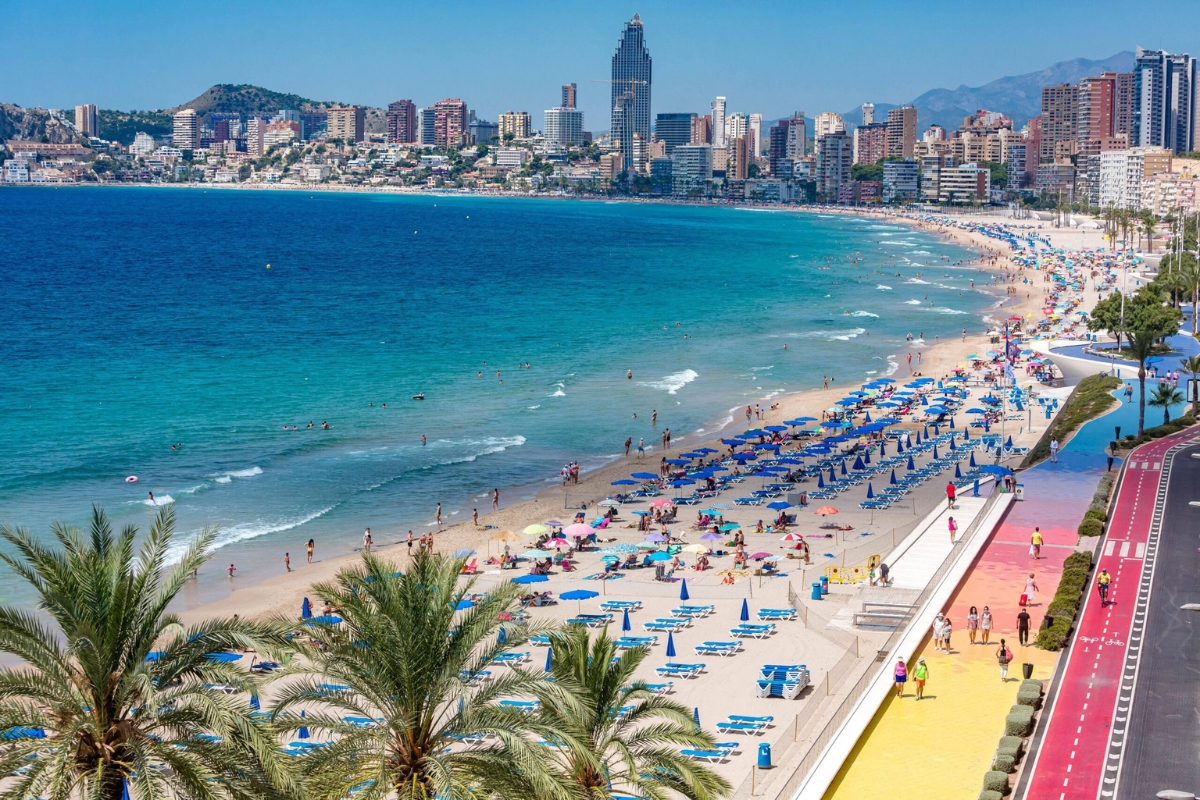 Playa de Levante in Benidorm proudly waves its Blue Flag, a testament to its clean, safe waters, and excellent facilities. Families flock here for the calm sea, ideal for swimming and paddling. Thrill-seekers will be pleased to find water sports activities aplenty, offering an opportunity to create splash-tastic memories. The lively promenade that frames the beach is a treasure trove of eateries and entertainment, ensuring the family fun doesn't stop at the water's edge.
7. Playa de Carihuela, Torremolinos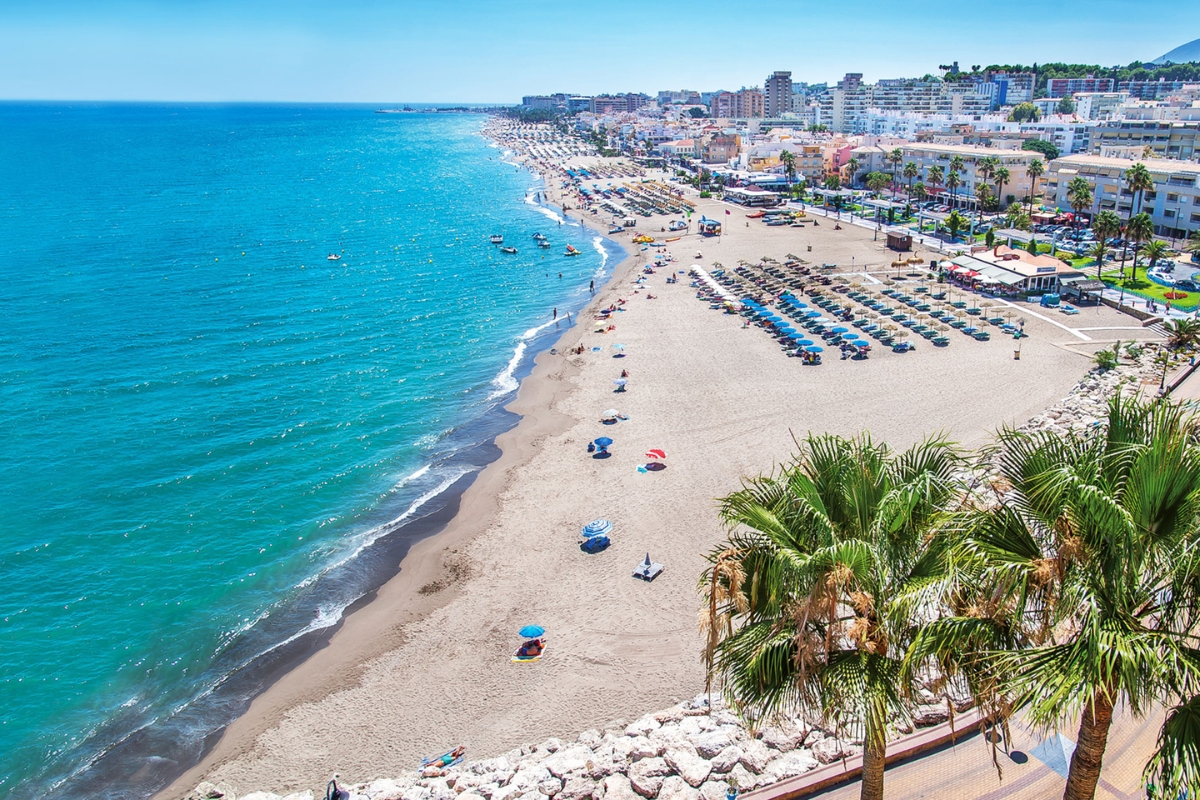 The sandy shores of Playa de Carihuela in Torremolinos beckon families with the promise of sun-soaked fun. With its friendly chiringuitos (beach bars), play areas strategically dotted along the soft sands, and vigilant lifeguards, parents can breathe easy. The local charm here is palpable, and the array of fresh seafood on offer will have the whole family eager to dine al fresco, enveloped by the gentle sea breeze.
8. Playa de Las Salinas, Ibiza

Ibiza may be synonymous with vibrant nightlife, but Playa de Las Salinas paints a different picture – one of familial bliss. Amid the island's pulsating scene, this beach emerges as a sanctuary where families can enjoy a day filled with sun and laughter. The shallow, crystal-clear waters invite little ones to splash around joyfully, while the soft sands provide the perfect canvas for sandcastle architects.
9. Playa de la Concha, San Sebastian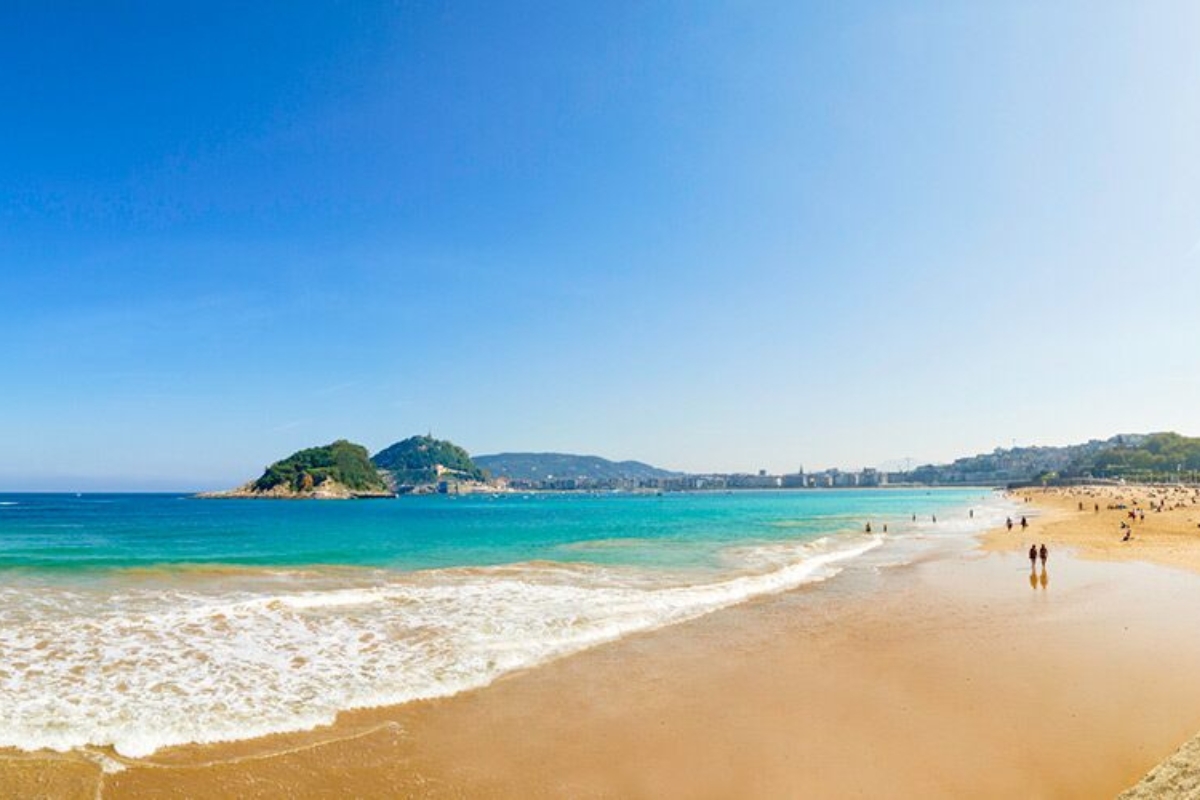 San Sebastian's Playa de la Concha is a crescent of golden sands bordered by a picturesque bay and lush hillsides. The gentle waves here play a soothing melody that complements the idyllic setting. Awarded the Blue Flag status, the beach's commitment to cleanliness and safety is evident, making it an ideal spot for families. The promenade, with its charming cafes and shops, adds to the appeal, offering refreshments and relaxation with a view.
10. Cala Millor Beach, Mallorca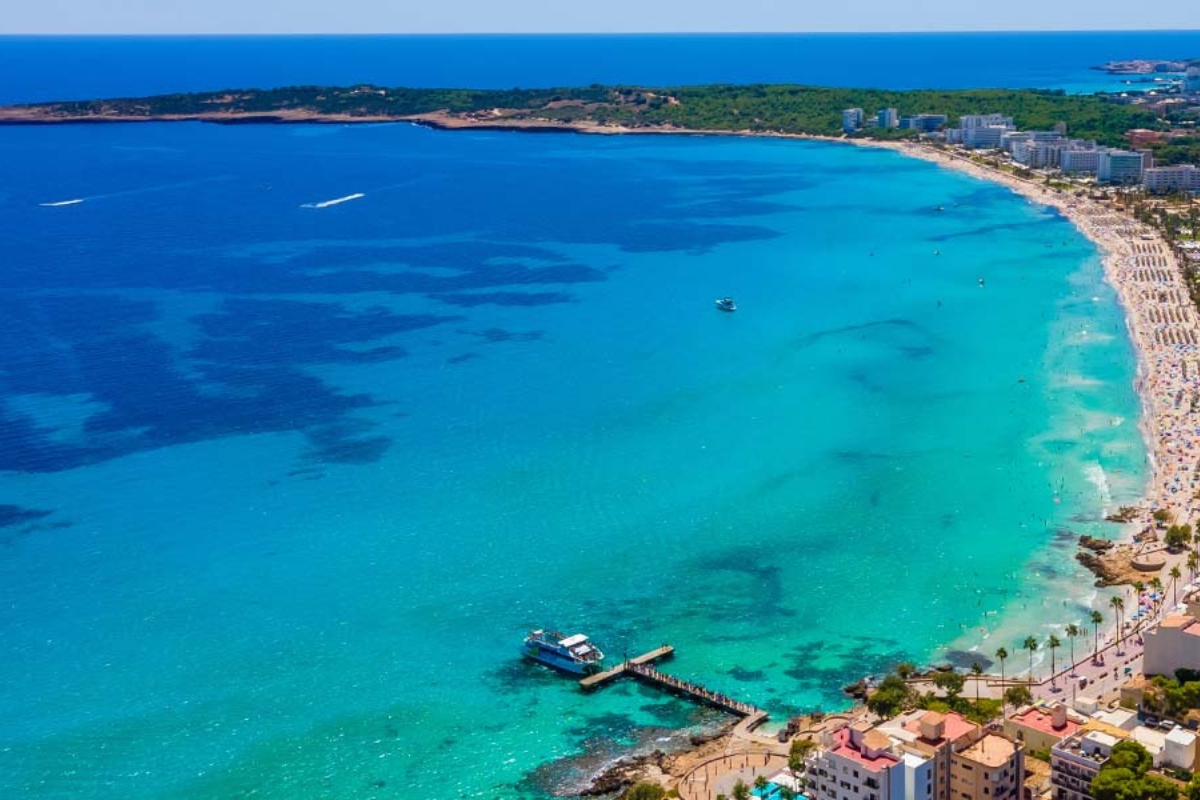 Discover Cala Millor Beach in Mallorca, where the azure waters are as inviting as the lively promenade that skirts its edge. Families here are greeted with a broad swath of fine sand that slips gently into the sea, ideal for kids to splash in the shallow waters. The promenade brims with the promise of discovery, from souvenir shops to spots where one can indulge in local treats like churros. The presence of lifeguards and the availability of sunbeds and umbrellas add layers of convenience, making it a worry-free zone for a family day out.
Frequently Asked Questions (FAQs)
What are the criteria for a Blue Flag designation?
The Blue Flag is a prestigious award given to beaches and marinas that meet a specific set of environmental, educational, safety, and accessibility criteria. To obtain this designation, a beach must comply with water quality standards which involve regular testing of the water for contaminants and pollutants. It must also maintain adequate waste disposal and recycling facilities, provide environmental education programs, ensure safety measures including the presence of lifeguards, and offer services for the disabled. It's a rigorous process, and beaches that wave the Blue Flag are recognized for their commitment to sustainability, safety, and public environmental awareness.
How to ensure children's safety at the beach?
Ensuring children's safety at the beach is paramount and can be managed through a combination of vigilance and preparation. Firstly, choose beaches with lifeguards on duty. Teach children about beach safety and the meaning of different flags. Use sun protection, including sunscreen, hats, and UV-protected clothing. Always supervise children, particularly in the water, and consider floatation devices for non-swimmers. Have a designated meeting point in case anyone gets lost, and ensure children are hydrated and take regular breaks from the sun.
What are some nearby family attractions around these beaches?
Each of the top beaches we've listed is complemented by a variety of family-friendly attractions nearby. From the marine life exhibits at the Palma Aquarium near Cala Millor Beach to the interactive science and technology fun at the Principia Science Centre in Málaga, close to La Misericordia Beach. Adventure parks, historical sites like the Castillo de Santa Barbara near Playa de Levante, and nature reserves are all within reach, promising enriching experiences for the whole family.
Nearby Attractions
Exploring the areas around these family-friendly beaches, one can find a plethora of attractions to extend the joy beyond the sands.
Local Cuisine
Along the Spanish coast, the local cuisine is as diverse as it is delectable. Near El Sardinero Beach, families can indulge in Cantabrian delicacies, savoring freshly caught seafood, while in Gran Canaria, Las Canteras Beach is just a hop away from restaurants serving succulent "papas arrugadas" (wrinkly potatoes) with "mojo picón" (a spicy sauce). Each region boasts its own culinary specialties, inviting families to embark on a gastronomic journey that tickles the taste buds and provides a flavorful education on Spanish culture.
Accommodation Options
Comfort is key when traveling with family, and the areas surrounding our top beaches offer an array of family-friendly accommodations. From all-inclusive resorts with kids' clubs and pools near Playa de Levante to quaint villas offering privacy and home comforts close to Playa de Las Salinas in Ibiza. Options range from luxury to budget-friendly, ensuring there's a restful retreat for every family after a sun-filled day. These accommodations are not just places to stay; they are extensions of the beach experience, each adding its own local flavor and hospitality to your family's holiday story.